New Zealand team results
 

Show One

Show Two

Cutting

1st Joel Gregory

3rd Joel Gregory

Youth World Champion Cutting - Joel Gregory (picture at right)
Reining

4th Leonie Huber

3rd Joel Gregory

Trail

8th Jody Blomfield

3rd Leonie Huber

Western Pleasure

9th Joel Gregory

8th Joel Gregory

Western Horsemanship
 

5th Olivia Waldock

Hunt Seat Equitation
 

2nd Olivia Waldock

Western Riding
 

7th Leonie Huber
9th Jody Blomfield

Hunter Under Saddle

6th Olivia Waldock

 
News at the time from Anne Blomfield (thanks Anne) 

3 July: an update on the fly - "Reining yesterday (2 July) Joel got 0 score 1st show, but Leonie got 4th. 2nd show Joel got 3rd, Leonie didn't place. Both times the kids placed they were put down due to a tie breaker. Italy won both shows.

Today (3 July) showmanship won by USA. None of our kids in the line up. Jody 
narrowly missed (according to judge) - horse moved a pivot foot. Apart from that a good run. Jody, Amanda and Olivia in it. Trail was won by the Dutch. Jody came 8th on a really unco-operative horse. (Picture at right.) Pleasure Joel came 9th and Canada won."


1 July: "Cutting today. Very good news for NZ. Joel has won gold in the first show, and 3rd in the 2nd. He rode a horse called 49er Command - a very experienced horse that rode just like his horse in NZ.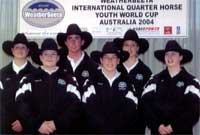 Jody did a good job but lost a cow and that put her out of the place getters. She had a very green horse (futurity horse just a few months ago), but she is pleased and tried her heart out. They ran it a bit different than they used to. Had 12 horses - one for each country. Each country had 2 kids. 2 draws - one for the morning, and one for the afternoon. Joel drew his horse for the morning - which ment that he did the morning clinic - then rode his cut under the 2 judges. Jody drew her horse for the afternoon - she rode in the afternoon clinic and show. 

The scores for each judge were kept for both shows and they were placed for the whole day 2 judge system. This meant that they could use only the 12 horses that they had for the 24 kids that needed them. In some ways the afternoon were disadvantaged - horses being tired, but other horses needed that first run to 'work in'. "

Photo above right: the team of Jody Blomfield, Amanda Broughton, Joel Gregory, Leonie Huber and Olivia Waldock with assistant Steffi Young.